Explaining Zoho CRM: The Best CRM Software for Your Business
What Exactly Is Zoho CRM?
Zoho CRM is a popular customer relationship management (CRM) tool that focuses on measuring performance and boosting leads, which in turn generates sales. Zoho CRM features Artificial intelligence (AI), and it can enable remote teams to collaborate more effectively thanks to its business intelligence capabilities.
Since its introduction in 2005, 45 applications and third-party connectors have been added to the Zoho CRM platform. Applications on the platform cover the majority of everyday company tasks making it the perfect CRM for small businesses. Zoho CRM comes with an internet office and productivity suite that serves as a substitute for well-known products like Microsoft Office. An all-inclusive business solution is provided by a combination of applications. Zoho CRM users rate it highly for value for money, with 92% of users stating this and vouching for it being the best CRM and email marketing software.
Zia, the AI-powered assistant, and other cutting-edge CRM features help sales teams direct their efforts as effectively as possible by providing great prospects and sales forecasts to identify the potential clients who are most likely to become customers. For any business, especially those in the healthcare sector that must maintain HIPAA compliance, this user-friendly platform's integration with hundreds of well-known apps and software makes it simple to construct a personalized CRM.
Zoho CRM Features And Benefits
Zoho has one major thing in mind, THE CLIENT. Because of this, Zoho's CRM has gained massive popularity among businesses and individuals alike with over 250,000 very loyal customers–It's not hard to see why they are the best CRM software in the world. Listed below are some of the features and benefits offered by this CRM giant.
Artificial Intelligence (Zia)
Zia is an AI-powered assistant that your team can use to gather client information, prepare documents, or locate useful data like sales figures to ease everyone's workflow. Zia, however, is only available in the top two levels. Zia determines the most effective time to reach out to each client by analyzing when they often check emails, return calls, or visit your website. By identifying the transactions that are more likely to conclude soon and directing your team members' attention there and assigning duties appropriately, this amazing sidekick also helps by streamlining your sales efforts.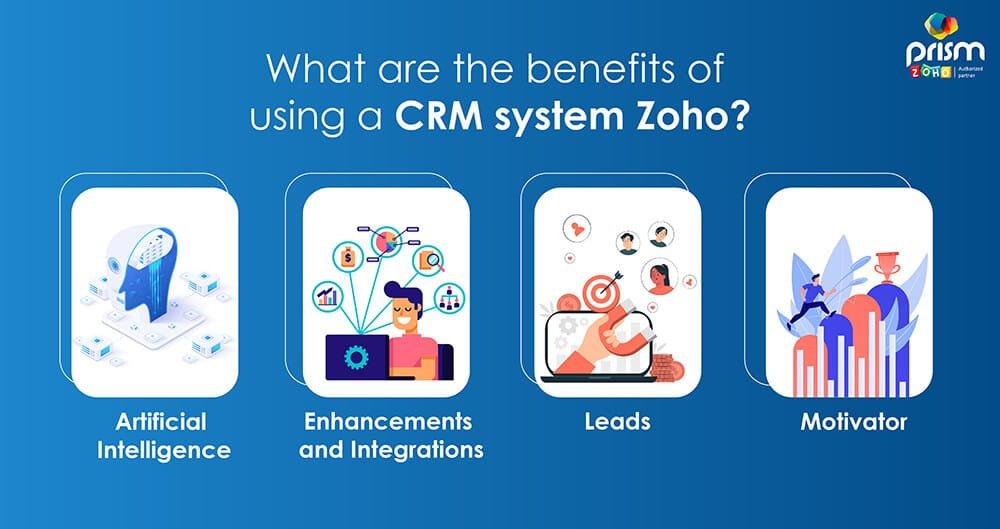 Leads
The next drop-down menu after "Home" is where you'll find "Leads" on the Zoho dashboard navigation menu. All of the people or company representatives that you might be able to convert to customers are gathered here by the software. When it comes to grooming leads into devoted clients, information like where and how long a lead interacts with your website can be tremendously helpful.
Additionally, you can track your leads' interactions with your business through a variety of channels, including phone calls, surveys, emails, and social media campaigns, by using the "SalesSignals" feature. You can also use this feature to receive notifications when a lead accesses a new area of your website.
Enhancements and Integrations
A subscription to Zoho One opens a gateway to more than 45 apps and related mobile applications that interface with Zoho CRM increasing the number of capabilities available. For virtual meetings, team collaboration, telephone systems, storage, analytics, automated email marketing campaigns, tracking website visitors, recruiting, HR customer service, data analytics, productivity, finances, and business operations, there is an option to integrate with well-known third-party software and apps in each of the four paid subscription bundles. You may find tools for Google Analytics, GoTo Meeting, MailChimp, Zendesk, QuickBooks, Zoom, Dropbox, Slack, Trello, and other programs.
Motivator
The targets, rewards, and promotions set for your sales force will achieve more success thanks to Zoho's CRM. Regardless of where your team is, the leads they generate, calls they make, and deals they close are turned into awards and badges to foster friendly competition.
By letting your staff know how close they are to achieving their every day, weekly, monthly, quarterly, or annual goals, features like pop-up notifications may keep them engaged.
Privacy And Security
Additionally, admin controls for managing mailboxes, storage restrictions, and security features like controlling roles and permissions are included with all Zoho products. Additionally, it has built-in privacy, compliance, and data security safeguards. For small and medium-sized organizations, Zoho provides a complete and scalable software platform designed to act as a one-stop shop.
Who Is Using Zoho CRM?
In more than 180 countries, Zoho CRM currently has over 80 million users, making it THE best sales CRM software available on the market. It is utilized in the fields of professional services, production, retail, distribution, banking, real estate development, financial services, life sciences, consumer packaged products, education, and media.
Conclusion:
So, what is Zoho CRM? Well, in summary, it is a customer relationship manager that was developed to ease everyday workflow and help your business grow to its highest potential. Whether you're a new business owner, or you've been in the game for a while, if your business isn't connected with Zoho CRM, well then, you might want to rethink that.