Multiple Document Templates
Multiple Document Signature
Digital and
Electronic Signature
Reminders and
Notifications
Sign Contracts Quickly Without the Hassles of Transporting Paper Documents
Digital Signature Application
If you're still signing documents with pens and paper, you might want to consider transitioning to an electronic signature. To approve critical documentation, you don't need to wait till you're in the office or have a printout.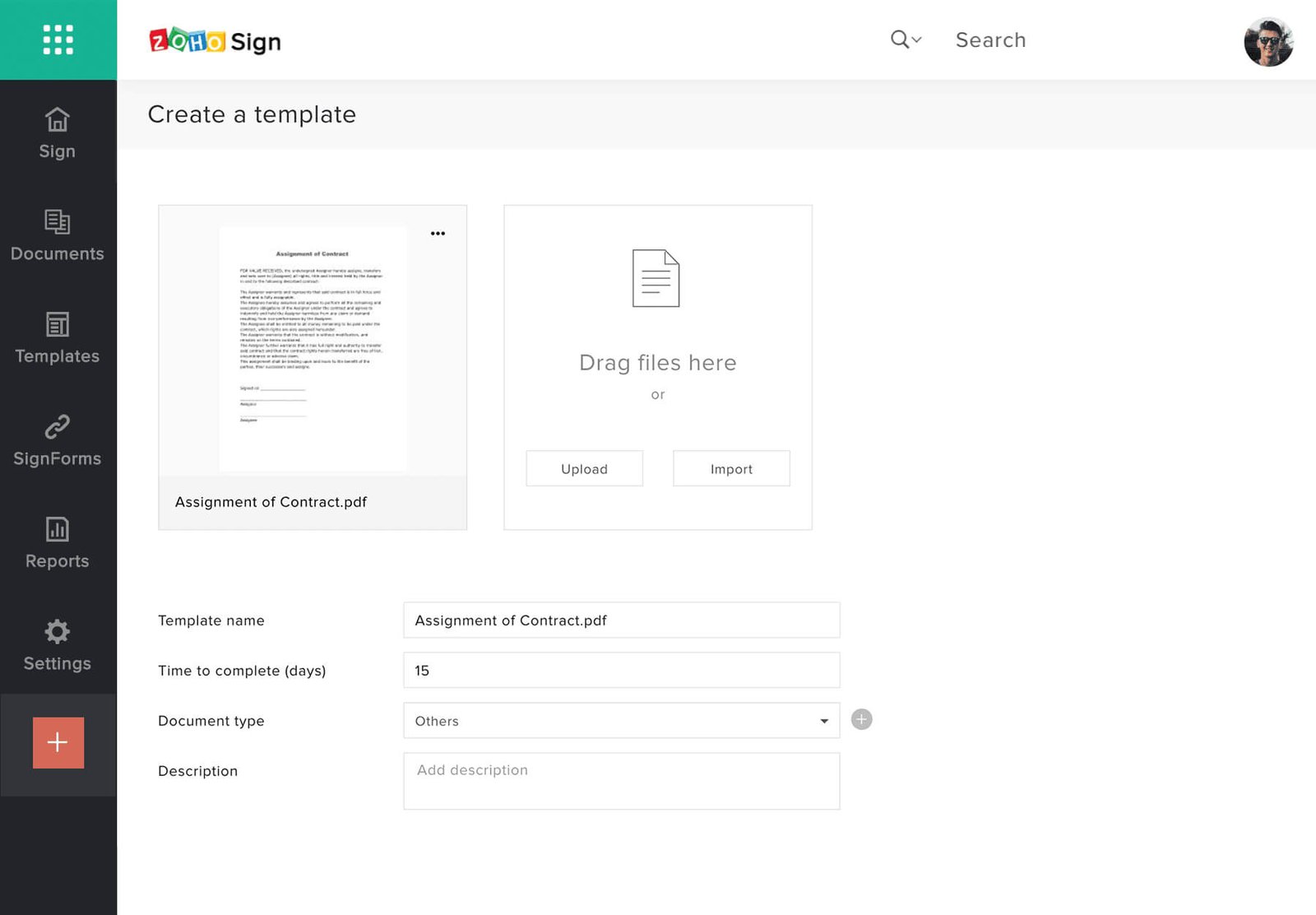 When a single document requires signatures from multiple people, such as the client, the project manager, and finally the organisation's managing director, the approval management feature allows the document to be easily transferred from one person to another without the hassle of scheduling appointments and so on.
Reminders and Notifications
If a client receives a document that requires their signature but forgets to sign it due to unforeseen circumstances, the reminder and notification tool will alert them that a document from your organisation is awaiting their signature.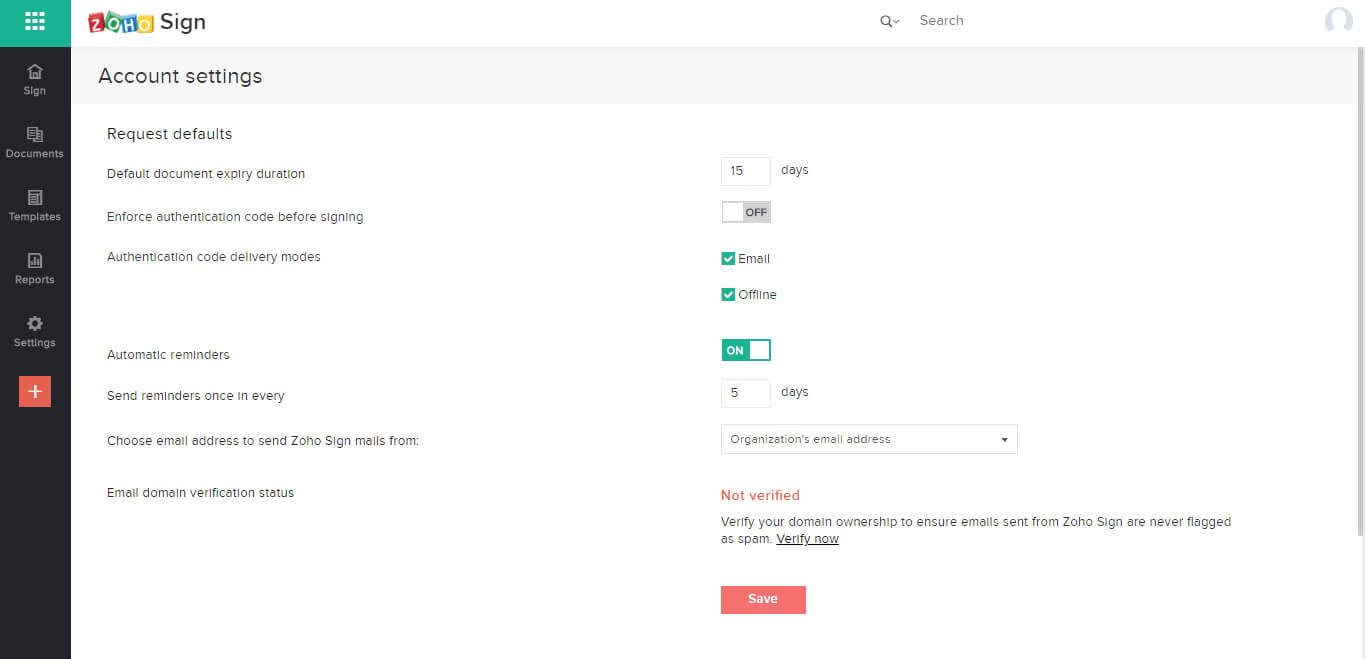 Verify Legally Binding Papers From Anywhere, Using Zoho Sign
Free
/month/billed monthly
Single user only
5 documents/month
Signing workflows
Signer authentication code via email
Signing with USB token for DSC
Print, sign, and upload for physical signing
Reminders and notifications
Audit trail and certificate of completion
Document and folder management
Import documents from and export documents to cloud storage apps - Dropbox, Box, Google Drive, OneDrive, Zoho Docs, and Zoho WorkDrive
Basic integrations with Zoho Apps - CRM, Desk, Books, Invoice, Inventory, People, Recruit, Workerly, Mail, Writer, Qntrl, Creator, Deluge, and Flow
Mobile apps - iOS, iPad OS, and Android
Desktop apps - macOS and Windows
Standard
/month/billed monthly
25 documents/user/month
Security management
Approver action
Signer authentication code via SMS
Organization email alias configuration
Advanced integrations with Zoho Apps - CRM, Desk, Books, Invoice, Inventory, People, Recruit, Workerly, Writer, Qntrl, Creator, Deluge, and Flow*
Basic integrations with 3rd-party apps - Microsoft 365, Google Workspace, Gmail, Outlook, Microsoft Teams, Zapier, and Integromat
Priority technical support (email, web, and phone)
Professional
/month/billed monthly
Unlimited documents
Multi-language support
Signer attachments
Templates
Template sharing
Reports
Rebranding
Integration with Zoho Forms*
* Most Popular *
Enterprise
/month/billed monthly
Automation credits
NewDocument sharing
Secure finance backup
In-person signing
Bulk send
Sign Forms
Qualified Electronic Signatures (QES) - Uanataca
Signing via 3rd-party DSC providers - eMudhr
Trusted document timestamping
Blockchain timestamping
Recipient redirection
Automatic cloud backup
Webhooks
Free
/month/billed annually
Single user only
5 documents/month
Signing workflows
Signer authentication code via email
Signing with USB token for DSC
Print, sign, and upload for physical signing
Reminders and notifications
Audit trail and certificate of completion
Document and folder management
Import documents from and export documents to cloud storage apps - Dropbox, Box, Google Drive, OneDrive, Zoho Docs, and Zoho WorkDrive
Basic integrations with Zoho Apps - CRM, Desk, Books, Invoice, Inventory, People, Recruit, Workerly, Mail, Writer, Qntrl, Creator, Deluge, and Flow
Mobile apps - iOS, iPad OS, and Android
Desktop apps - macOS and Windows
Recommended
Standard
/month/billed annually
25 documents/user/month
Organization email alias configuration
Advanced integrations with Zoho Apps - CRM, Desk, Books, Invoice, Inventory, People, Recruit, Workerly, Writer, Qntrl, Creator, Deluge, and Flow*
Basic integrations with 3rd-party apps - Microsoft 365, Google Workspace, Gmail, Outlook, Microsoft Teams, Zapier, and Integromat
Priority technical support (email, web, and phone)
Professional
/month/billed annually
Unlimited documents
Multi-language support
Signer attachments
Templates
Template sharing
Reports
Rebranding
Integration with Zoho Forms
* Most Popular *
Enterprise
/month/billed annually
Automation credits
Document sharing
In-person signing
Bulk send
Sign Forms
Qualified Electronic Signatures (QES) - Uanataca
Signing via 3rd-party DSC providers - eMudhra
Trusted document timestamping
Blockchain timestamping
Recipient redirection
Automatic cloud backup
Webhooks
Zoho Sign Frequently Asked Questions