Schedule Support Sessions
Two Factor Authentication
Instant Chats and File Transfer
Screen Sharing and Session Recordings
Email Templates and Notifications
Zoho Assist is The Best All-in-One Remote Access and Support Solution for SMEs
Zoho Assist Provides Simultaneous remote support sessions with Inexpensive pricing. You can safely send files from your computer to your customer's PC using the unlimited support feature, and stay connected through a chat window during an instant remote access session.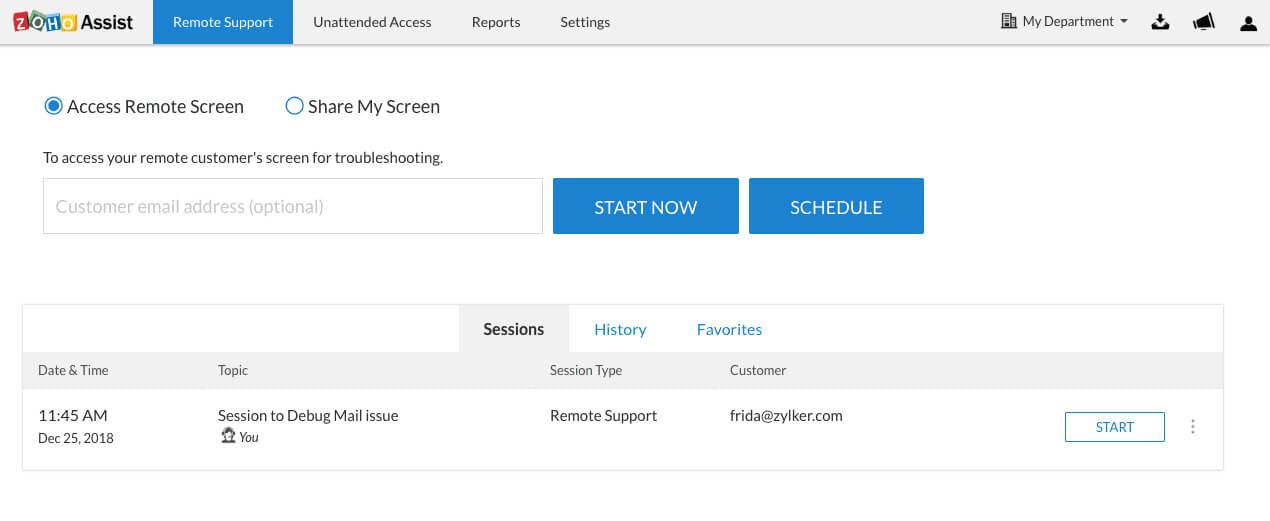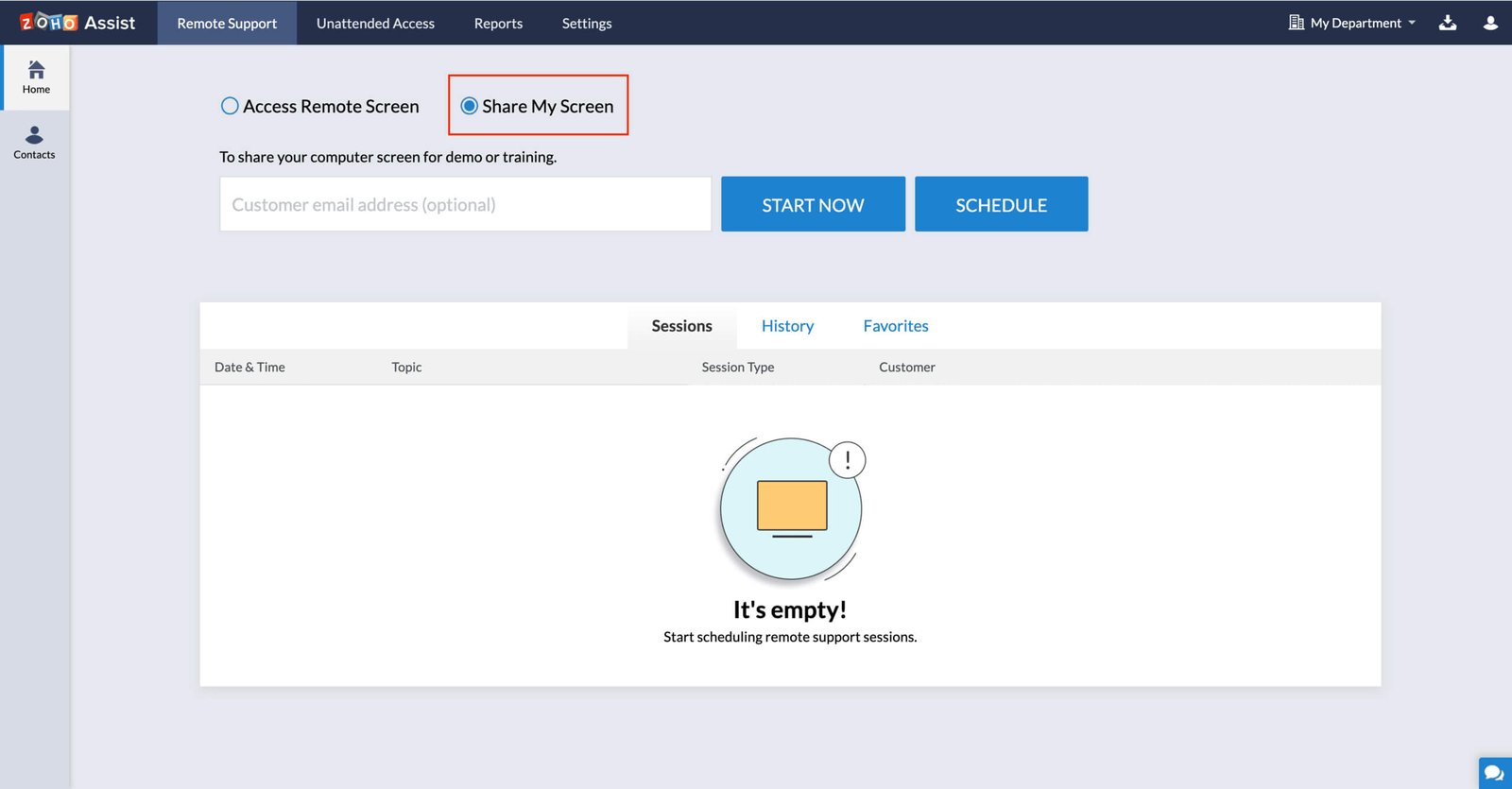 Screen Sharing and Session Recordings
The screen sharing feature lets you organize sessions, swap screens, and communicate with customers in real-time during meetings, demos, and training. Instantly share your screen across several devices and operating systems.
Zoho Assist integrates with popular help desk applications including Zoho Desk, ITSM, Service Desk Solutions, ZenDesk, and G Suite. These allow you to connect with remote clients and make troubleshooting much easier.
Initiate an on-demand or scheduled support session, share your screen, and manage your contacts with remote support in Zoho Assist. Get started today with highly rated, secure, and affordable remote assistance software.
Configure, manage, troubleshoot, and establish control over your remote assets quickly using Zoho Assist's Unattended Remote Access tool. Easily set up computers for remote desktop connections using bulk deployment options.
Get The Best-In-Class Remote Support Platform At An Affordable Price
File Transfer
Multi Monitor Navigation
Send Ctrl+Alt+Del
Reboot and Reconnect
Session Transfer
Import Google Contacts
Custom Report
Screen Capture
Zendesk Integration
2 simultaneous Sessions
Voice chat
Professional
1 technician
Mobile Apps (iOS, Android)
Schedule Sessions
Screen Sharing
Session Notes
Custom Email Templates
Rebranding
Advanced Reports
4 simultaneous Sessions
Departments
Session Recording
Service Queue
Session Audit
Remote Printing
Video Chat
Contacts Management
Annotation
Customer Widget
Custom Domain Mapping
6 simultaneous Sessions
Standard
1 technician/month billed annually
File Transfer
Multi Monitor Navigation
Send Ctrl+Alt+Del
Reboot and Reconnect
Session Transfer
Import Google Contacts
Custom Report
Screen Capture
Zendesk Integration
2 simultaneous Sessions
Voice chat
Professional
1 technician/month billed annually
Mobile Apps (iOS, Android)
Schedule Sessions
Screen Sharing
Session Notes
Custom Email Templates
Rebranding
Advanced Reports
4 simultaneous Sessions
Enterprise
1 technician/month billed annually
Departments
Session Recording
Service Queue
Session Audit
Remote Printing
Video Chat
Contacts Management
Annotation
Customer Widget
Custom Domain Mapping
6 simultaneous Sessions
Zoho Assist Frequently Asked Questions