Zoho Inventory's Management Features
Order Management Software
Inventory Management System
Inventory Tracking Software
Shipping Channels Integration
Payment Gateway Integrations
Zoho Inventory Makes Inventory Management Simple
Inventory Management System
Zoho Inventory Management Software tracks two types of Stock which are Physical and Accounting Stock. The Physical consists of received stock and shipments while Accounting consists of bills and Invoices.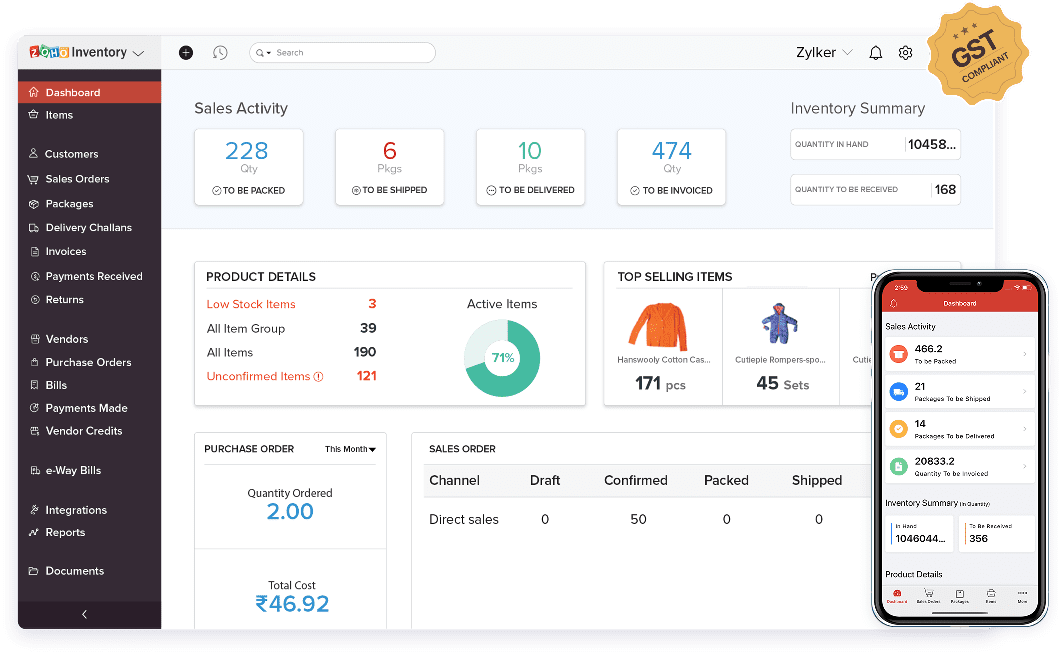 The Sales Order Management System is integrated with Amazon, eBay, Etsy, and Shopify to broaden your reach. Modify inventory numbers throughout every channel whenever an order comes in through integrated Sales.
Manage numerous warehouses, transfer merchandise between them, and create reports to have a better understanding of warehouse management.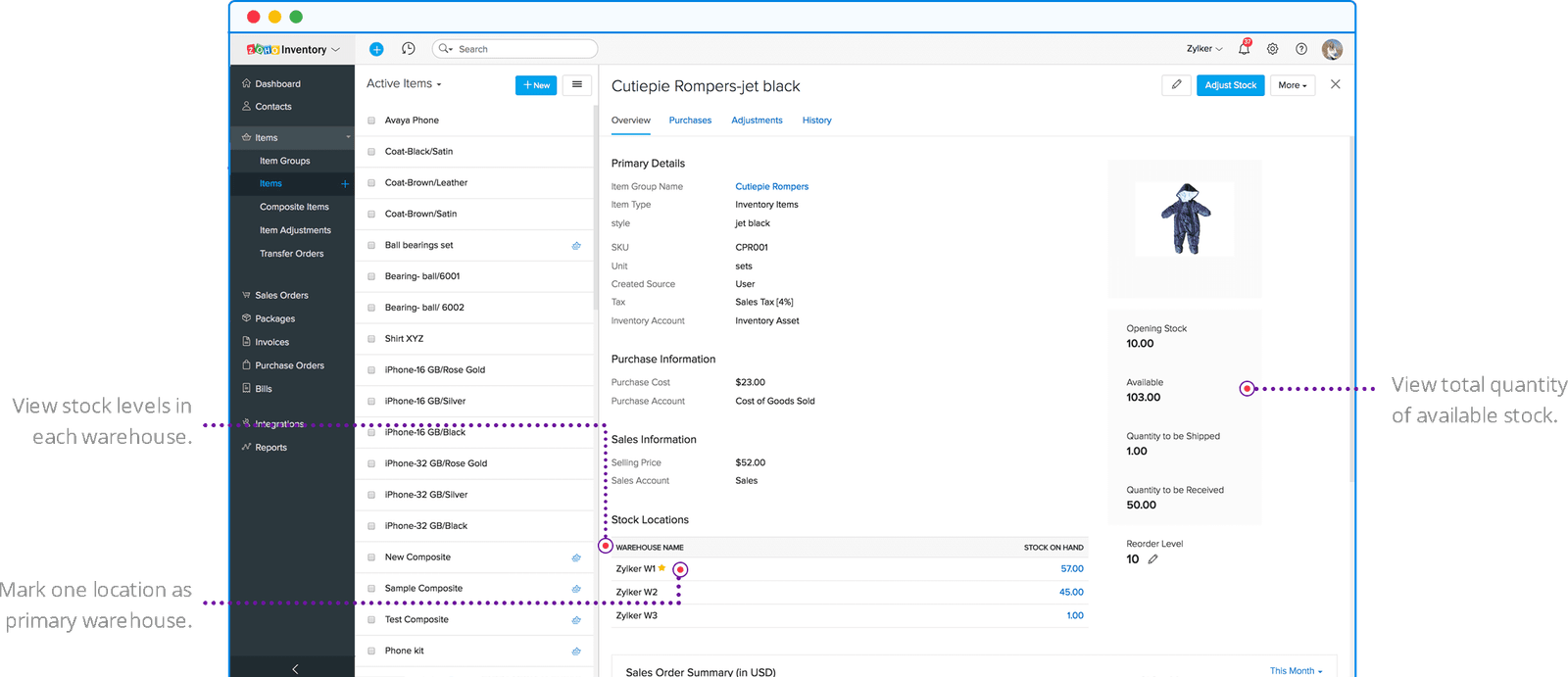 Zoho Inventory Pricing Plan
The Best Inventory Application For Distribution, Accounting, And Stock Management.
Free
per organization / month
50 orders / month
50 shipping labels / month
50 Aftership tracking / month
1 Warehouse
2 Users
Composite items
Client Portal
Ecommerce Integrations
Integrate 1 Shopify store
Standard
per organization / billed monthly
1500 orders / month
1500 shipping labels / month
1500 Aftership tracking / month
2 Warehouses
3 Users
Composite items
Client Portal
Ecommerce Integrations
Integrate 1 Shopify store
Professional
per organization / billed monthly
7500 orders / month
7500 shipping labels / month
7500 Aftership tracking / month
5 Warehouse
5 Users
Composite items
Client Portal
Ecommerce Integrations
Integrate 2 Shopify store
5 Automated Workflows / Module
Serial Number Tracking
Batch Tracking
Premium
per organization / billed monthly
15000 orders / month
15000 shipping labels / month
15000 Aftership tracking / month
7 Warehouse
10 Users
Composite items
Client Portal
UoM Conversion
Picklists
Ecommerce Integrations
Integrate 5 Shopify stores
10 Automated Workflows / Module
Serial Number Tracking
Batch Tracking
Free
per organization / billed annually
50 orders / month
50 shipping labels / month
50 Aftership tracking / month
1 Warehouse
2 Users
Composite items
Client Portal
Ecommerce Integrations
Integrate 1 Shopify store
Standard
per organization / billed annually
1500 orders / month
1500 shipping labels / month
1500 Aftership tracking / month
2 Warehouses
3 Users
Composite items
Client Portal
Ecommerce Integrations
Integrate 1 Shopify store
Professional
per organization / billed annually
7500 orders / month
7500 shipping labels / month
7500 Aftership tracking / month
5 Warehouses
5 Users
Composite items
Client Portal
Ecommerce Integrations
Integrate 2 Shopify stores
5 Automated Workflows / Module
Serial Number Tracking
Batch Tracking
Premium
per organization / billed annually
15000 orders / month
15000 shipping labels / month
15000 Aftership tracking / month
7 Warehouses
10 Users
Composite items
Client Portal
UoM Conversion
Picklists
Ecommerce Integrations
Integrate 5 Shopify stores
10 Automated Workflows / Module
Serial Number Tracking
Batch Tracking
Zoho Inventory Frequently Asked Questions