Benefits of Integrating Shopify & Your CRM
Online searches for Shopify CRMs take as little as five minutes, and many different options become apparent. Additionally, not every CRM platform is the same. Some are targeted at large organizations, while others target small businesses or even particular industries.
Finding the ideal CRM, however, has a number of benefits, such as:
Improving your knowledge of your customers
Lowering labor costs
Enhancing your retention tactics
Research demonstrates that an efficient CRM may enhance customer connections, boost revenue, increase productivity, and lower labor expenses.
In this article, we'll look at how choosing from our list of the Top 5 CRMs for your Shopify store might help you get similar advantages:
Let's first examine the essential characteristics you ought to search for when comparing products.
Main advantages of CRMs for Shopify
Although a modern CRM has various uses, its primary purpose when it was first developed was to enhance business-customer connections. A CRM organizes your relationships and compiles vital customer data, including purchases, interactions, and demographics. Anyone in your firm can simply access this info.
CRMs can also assist in streamlining your sales process and gathering and organizing all of your sales data. As a result, you'll be able to develop a step-by-step sales procedure that your staff can rely on, which may enhance sales and productivity.
In addition to enhancing communication with customers, a CRM may also improve internal communication. As a result, each team member can maintain a consistent brand voice, with notes, tags, and messages all housed in one system.
What to check for when integrating Shopify CRM
Finding the ideal CRM for your Shopify store can be challenging, and if you don't know what to look for, you might end up purchasing a complicated and challenging-to-use solution. Worse: You might purchase a CRM without a reliable Shopify interface, which would increase your workload.
Here is a list of characteristics to refer to when choosing a CRM if you're not sure of what you're looking for:
Shopify Compatibility
Since Shopify is where the magic happens, a CRM Shopify integration is a given. If you don't, you'll have to deal with fragmented systems and add additional work to your plate.
Integration Capabilities
Being effective with Shopify is insufficient. A CRM solution that interfaces with a variety of e-commerce and business applications are another important consideration. Due to the sharing of client information and other crucial information between your Shopify CRM and other business platforms, you will become more organized and productive.
User-friendliness
Your CRM system doesn't need to be extremely complicated to be effective. Select an approach that is simple to understand and doesn't try to reinvent the wheel. No CRM system ought to resemble a NASA control panel.
Workflow automation
Automating regular operations, such as customer service and product subscription routines, allows you to spend less time on tedious work, lowers the possibility of human error, and makes it simpler to interact with consumers.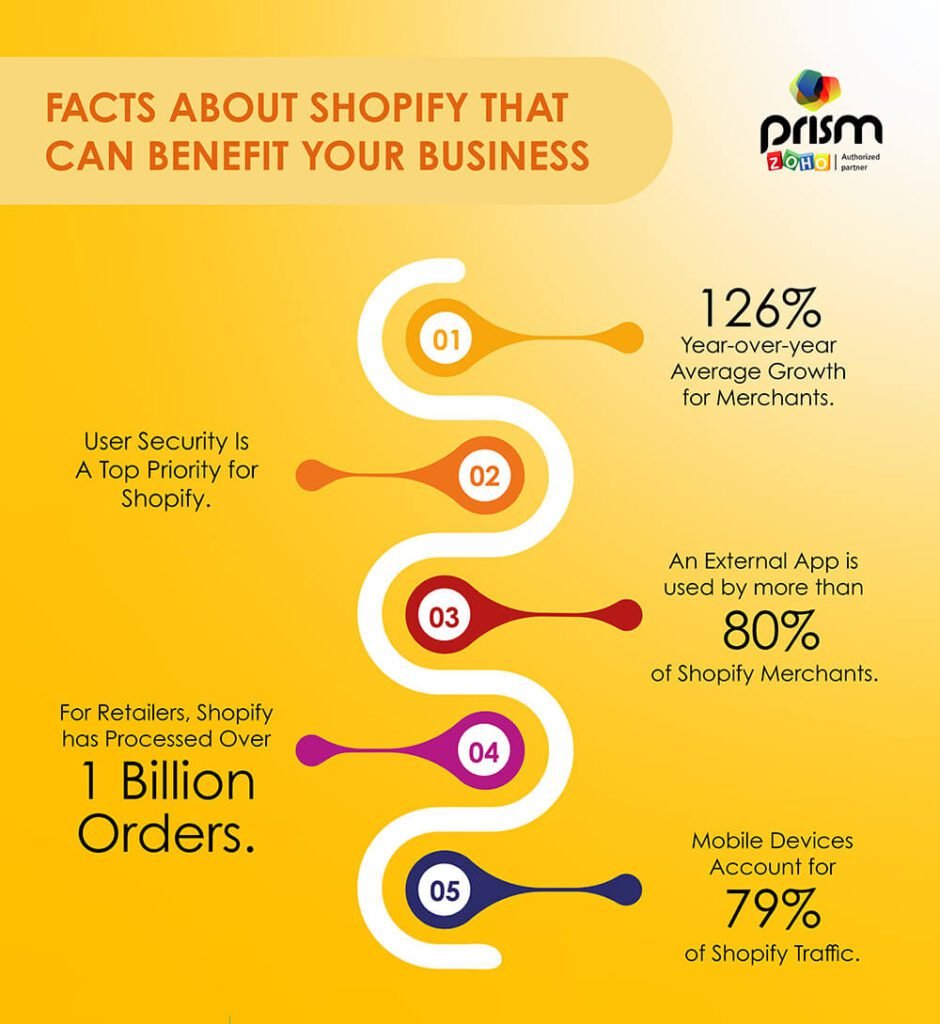 Leading CRMs for Businesses at Shopify Stores in 2022
Zoho  
Zoho's CRM platform is gaining popularity because of its ability to be cost-effective, simple to use, and adapt to the needs of eCommerce merchants of all sizes making it the best CRM and email marketing software. Some of the best value for your money can be found with subscriptions that begin at just $14 per month.
Zoho is prepared to handle anything from marketing to finance and HR thanks to its extensive range of business management solutions. It integrates with Shopify and other Zoho applications to make managing accounting, invoicing, and other company tasks from a single platform easier.
Additional applications and platforms on their extensive list of connections include Canvas, Slack, Facebook Ads, and more.
When it comes to automating repetitive operations, Zoho offers configurable workflows and templates that can help you save time and money and most have testified that the Zoho email marketing software is the best for running automated email marketing campaigns.
Pros 
The email marketing and automation solutions offered by Zoho are strong. Access to a form builder software is also included with subscription plans, making it simpler to manage everyday tasks. Another benefit is Zoho's thorough reporting, which enables you to dig deeply into your data.
Cons
Starting up requires some tweaking based on your needs. Although Zoho has a lot of capabilities, the depth of its functionality becomes increasingly constrained as your needs grow.
Zendesk
Although it's frequently associated with customer service, Zendesk also includes a CRM called Zendesk Sell. One of Salesforce's largest rivals is Zendesk, which is used by more than 200,000 businesses globally (including Uber and Staples). Therefore, you can be sure that its CRM capabilities will be top-notch.
To learn more about when consumers open and read emails, utilize Zendesk Sell. It also has the capability to create a multi-channel marketing campaign and import customer data from Shopify. To suit your particular needs, create email templates and automate communication.
Additionally, Zendesk interfaces with a growing number of programs, ensuring that information is seamlessly transferred between Shopify and your other business tools.
Pros
For the majority of small to midsize enterprises, Zendesk Sell offers excellent pricing options. Gmail and Office 365 email connectivity are included, and a built-in phone system is also included. Businesses without a fully formed IT team will benefit from Zendesk Sell's quick and simple learning curve.
The fact that Zendesk Sell provides collaboration tools to keep onsite and remote personnel engaged, regardless of location, is an additional benefit.
Cons
There is typically a small learning curve at the beginning with any CRM. The cost increases noticeably as you add more sophisticated features. Additionally, Zendesk Sell lacks an integrated marketing solution.
Salesforce
Salesforce claims to be the leading CRM platform worldwide, holding close to 33% of the market. Salesforce must deliver a top-notch platform with such a large flex, and it does.
It comes with everything you need to manage your relationships with partners, suppliers, and prospects, from client tracking to sales pipeline management.
With the use of Salesforce's CRM Shopify integration, you can keep track of what customers buy, when they buy it, and how frequently they make purchases.
Pros
Salesforce has a lot to offer Shopify stores. Quick customer service is possible, and you can discover more about your audience. Additionally, Salesforce is totally adaptable and has a wide range of sophisticated marketing connectors. Most likely, Salesforce is best suited for highly specialized organizations with strict regulations.
Cons
Although Salesforce has a vast range of features, customizing and adding more users are not free. In comparison to other CRMs, this may result in higher prices.
It is also usual to experience technical difficulties when deploying Salesforce due to its complexity. You'll need to choose the tools that are most appropriate for your company in addition to learning how to use the program. Automated technical assistance might not be able to fix your problem, and getting in touch with a real member of their support staff might take days.
HubSpot
HubSpot provides a well-liked freemium CRM Shopify integration that has gained popularity among merchants. Starter, Professional, and Enterprise are further tiers. You will have varying access to the platform's features and tools depending on the tier you select.
Your online storefront and the CRM dashboard can easily sync data thanks to HubSpot's CRM Shopify integration. Users of HubSpot CRM can also design unique workflows that integrate with the Shopify customer data. Therefore, Hubspot can help you scale your business without introducing more complexity, whether you're juggling tactics or services.
Pros
Keeping all of your marketing, sales, and customer service data in one location is simple with Hubspot. Hubspot is the kind of CRM that develops with you thanks to its large App Marketplace that connects all of your products.
Cons
Depending on your demands, Hubspot may not always be the least expensive choice. Their plans can easily go from being freemium to having a respectable monthly cost, depending on how many seats you require and the features you desire.
In conclusion, this article will guide you in identifying the best CRM to help you save time and money, Zoho implementation partners help you realize the full potential of each application in the Zoho one suite. They undertake in-depth research and become experts in every application to deliver the best training programs, enabling businesses in the UAE and around the world to benefit most from CRM solutions.